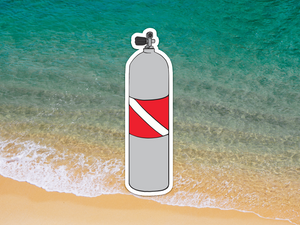 This SCUBA diver sticker is great for those passionate about diving and the underwater world. Show off your passion for scuba diving with this tank adorned with the Diver's Down flag. Place this design on your laptop, water bottle, or wherever you keep your stickers.
1 in x 3.25 in

Your stickers will be mailed in a sturdy envelope, tracking included.  Additional stickers ship at no extra cost.

These stickers are printed on durable, adhesive vinyl. A laminate layer protects them from scratches, wind, rain, and sun. They are also dishwasher safe.

Don't forget to clean the surface before applying the sticker.